Generally we eat wheat and rice in grains, but besides these there are many other grains which are rich in nutrients. But we do not include them in our diet. One of them is Pearl Millet. Pearl Millet is the main grain of Punjab, Haryana, and Rajasthan. Bread or Khichdi made of Pearl Millet with nutritious elements, not only keep you healthy, but also increases the body immunity in winters.
Nutritious Element Found in Pearl Millet
Many nutrients like niacin, magnesium, phosphorus are found in pearl millet. Niacin is very beneficial for the veins and nerves. On the other hand, Phosphorus provides energy to the body. Pearl millet also satisfies the calcium deficiency in bones and prevents anemia. These three nutrients are found in abundance in Pearl Millet. These types of nutrient deficiency can be easily removed by the consumption of Pearl Millet. Apart from this, Pearl Millet also reduces liver related diseases.
Properties and Benefits of Pearl Benefits
Pearl Millet is gluten free, the people who are allergic to gluten for them millet is the best option. Pearl Millet has amino acids which are easily absorbed by the body. People who have digestion problem, for then Pearl Millet is very healthy. Such people can eat Pearl Millet khichadi or chapatti, because from this amino acids will be better absorbed in the body. You will feel healthy by consuming Pearl Millet's bread or khichadi.
When to eat Pearl Millet
Pearl Millet has hot is better to eat in winters. Due to its hot property it keeps the body warm. You can eat chapatti made from Pearl Millet with spinach or any vegetables.
Recipes made from Pearl Millet:
Pearl Millet can be consumed in any form. You can eat khichadi, chaat, puri, pakode, cutlet, soup, dhokla, crepe, mathri, halva, churma, ladoo etc made up of Pearl Millet. Today, we are sharing a recipe a recipe with you- Vade made from Pearl Millet. Pearl Millet's vade can be easily made and are very tasty.
Learn how to make Pearl Millet :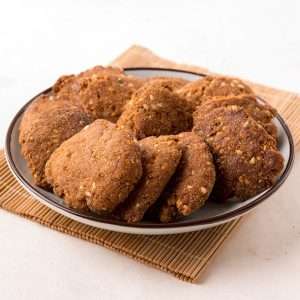 Important Ingredients:
• Pearl Millet Flour: 1 and half cup
• Red chilli powder: 1 teaspoon
• Turmeric Powder: ½ teaspoon
• Coriander Powder: 1 teaspoon
• Sesame: 1 teaspoon
• Curd: 1 tablespoon
• Coriander leaves: 1 cup (finely chopped)
• Oil: 2 cup for deep fry
• Salt: 2 teaspoon (according to taste)
• Water: ½ cup
Recipe
• Take the millet flour in a bowl and add red chilli powder, turmeric, curd, sesame, green coriander, coriander powder and salt.
• Now add little water and knead the dough properly.
• Now make small pods out of the kneaded dough. Flatten the pods by pressing the flour with the hand.
• Heat the oil in a pan to fry the small pearl millet pods. When the oil is hot enough to fry, then put a pod in the oil to check.
• Now put all the pods in the oil for frying, and fry it till they change their color to golden brown. Takeout the fried pods (vade) out of the oil and place it in the tissue paper to remove extra oil.
• Pearl Millet Pods (vadas) are ready. Serve it with tomato ketchup or tea.
Disadvantages of Pearl Millets
There is no severe harmful effect of pearl millets. Nevertheless, it takes too much time to properly digest and process the pearl millet, which can be harmful.
Goiterogenic substance is present in small quantity in pearl millet which inhibits iodine absorption in the body and can lead to thyroid problem.
Generally Goiterogic's effect reduces when we cooks food, but when we cook or heat Pearl Millet then goiterogenic's effect are increased. Therefore, people suffering from thyroid should avoid eating pearl millet.
For more information about Agriculture and Livestock, download Apni Kheti app – Android, iPhone