Jian spray:It is used for the prevention of aphids, jassids and caterpillar.
Ingredients:
Urine: 50 ltr
Neem leaves: 2 kg
Karanj leaves: 2 kg
Dhatura leaves: 2 kg
Calotropis leaves: 2 kg
Marijuana leaves: 2 kg
Crushed garlic: 250 gm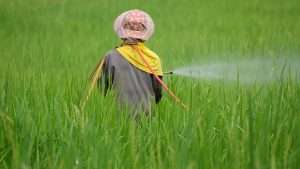 Preparation method:
Keep the above given ingredients as such for 40 days or boil all these ingredients together for 30 to 45 minutes and then take it off. Let it cool down and again repeat this procedure for the next two days.
Method of use:
Dilute the mixture by dissolving 3 liter solution in 100 liter water.
For more information about Agriculture and Livestock, download Apni Kheti app – Android, iPhone