General information about cow-dung cake spray: By using the cow dung cake spray, we can get good yield from crops. This spray makes the crops soft which will help in their vigorous growth. It costs nothing in the preparation of spray and is prepared easily at home.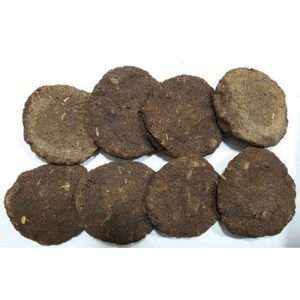 Necessary ingredients required for preparing cow-dung spray:
One year old 15-18 cow-dung cakes
50 liter water
One drum having capacity of 50-60 Liter.
Method of preparation of cow-dung cake spray: To prepare this spray one year old dung cake is required. Place these dung cakes in a big drum having capacity of approximately 50-60 ltr. For the preparation of spray for one acre land, 15-18 dung cakes are required. Put 50 ltr of water in this drum and then add dung cakes in this drum. Soak these dung cakes in water for 4 days. Prepare this mixture in shade. Within 4 days the dung cakes gets solubilized in water and the water will remain 25-30 ltr. Prepared dung spray is added in 150 ltr water for per acre land. By spraying, good growth are seen in crops. This spray makes the leaves and plant soft which will help in good growth of the crop. After 15-20 days again spray is done for the good growth of the plant.
For more information about Agriculture and Livestock, download Apni Kheti app – Android, iPhone