Farming management has become smarter with the help of modern sources of information and communication technologies that help increase production quality as well as quantity. In this digital era, you no longer choose to be smart; in fact, it has become vital to become and remain smart to be competitive in the market.
The technological advancements have been supporting the agricultural industry for years, but with time, both the technology and the agriculture sector are evolving at a fast pace. Agricultural apps are the newest source of valuable information and much more that help farmers to farm smarter and get helpful insights into the farming business.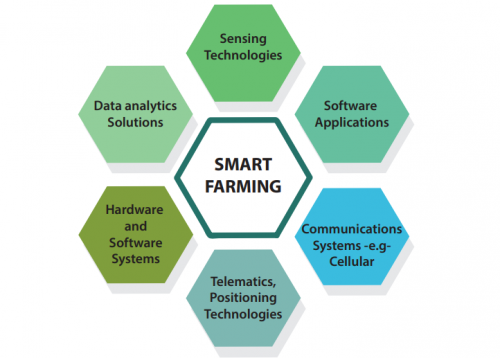 Image Credit: Beecham Research
How can farmers connect to the modern agriculture world?
Mobile phones have become the most used mediums for transferring voice, information, and delivering different types of services worldwide. As the use of mobile phones or smartphones is continuously increasing, many companies have started researching how they can connect with customers through mobile phones and enhance both customer experience and their business.
Even today, mobile apps are being used in healthcare, retail, beauty products, banking, etc. to engage a broader range of audience in a personalized and cost-effective way. Now the agriculture sector is using mobile apps to reach farmers effectively. Similarly, by using agriculture mobile apps, farmers can get latest updates about the farming techniques, rules, market prices, and connect with industry experts for help.
How have mobile applications become an integral part of farmers' lives today?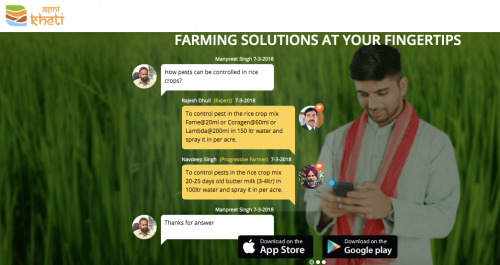 People are dependent on mobile apps to carry out many of their daily activities, and the case is same for farmers these days. Many agriculture-oriented mobiles apps are delivering multiple benefits to farmers and they are using such apps for different purposes such as, land and crop management, quality yield measurement, horticulture, and crop heath review during the crop cycle.
Also, some mobile farmer applications offer information on the type & quality of soil required for particular crops and how to use fertilizers of which type, etc.
How modern agriculture app helps you farm smarter this year?
Maintain Crop and Livestock Calendar
A farming app can help you with 'arming schedule'. You can make and maintain schedules as most of such apps give you notifications when it's time to perform a scheduled task. This way, you would be able to carry out the planned task at the perfect time of the day, allowing you never to miss an important one.
Crop Information
Agricultural mobile apps can capture data from multiple sources, and after analysing the data can help you perform farming activities correctly. For example, the apps can assess climatic conditions, the colour of soil, its ph level, presence of carbon in it, ground elevation, etc. Besides this, it can help analyse quality, temperature, and level of water you are giving to the crops.
These analytics also calculate and tell you how much water the crops require, according to the type of crops, climate, and the stage of growth. Knowing soil details and estimating the quantity of water needed allows farmers to prevent wastage of water.
Weather Forecasting
Weather forecasting is vital in agriculture. At times, weather change surprisingly, which can lead to crops getting damaged. To help farmers prepare for the future, some agriculture apps offer weather forecasting features, allowing them to know whether the next day would be radiant or rainy. This can help them take precautionary measures to ensure the safety of crops.
The Diseases and Their Treatment
Farmers don't need to go anywhere to treat their infected crops. They can simply consult with agriculture specialists (also through video calling) about their crops' disease and get information on appropriate treatments required.
Showcasing the Agricultural Products
Through an agriculture app, farmers can market their products to potential consumers. This way, consumers get access to the goods farmers offer and thus, they can decide to purchase without needing to visit the farmers' place or godown.
Listing Goods for agriculture
If the agriculture app, you would use, offers marketplace features with a list of seeds, farming equipment, pesticides, etc. and you are a seller then you can also showcase your products to buyers in the market.
This is simple, your products will be shown to potential buyers, and they might be able to contact you easily and quickly.
Expert Advice
Having an expert by your side while keeping a keen eye on the crops is vital in the farming business. With a farming app, farmers can get in touch with crop experts at any time, discuss their problems, and get practical and helpful solutions. This helps them maintain the farm's productivity at its best.
About Apni Kheti App & features
The agricultural app – Apni Kheti (available in 3 languages, i.e., Hindi, Punjabi, and English) can be customised based on the user's profile. The community of domain experts & fellow farmers gives suggestions to those farmers that are seeking help. Farmers can ask their questions in written, audio, and video message form.
We send regular and timely advisories to farmers from credible sources like Agricultural & Veterinary Institutes, KVKs, Domain experts, etc. Apni Kheti app is a reliable platform that always provides farmers with authentic information; with this, it has become their first choice to gain knowledge on farming.
Conclusion
Agricultural apps will undoubtedly be the next gold standard in farming. They're all about helping you save time, effort, and resources; and the faster you adopt this future farming technology, the safer will be your farming business in the next decade.
Farmers often have lots of questions and confusions in mind about their farms, crops, diseases, climate, control measures, etc. and with apps like Apni Kheti, farmers can build effective farming strategies that help them save water during the entire process and grow crops that bring them many profits.
If you also have questions that are still unanswered or if you are confused deciding which seeds you should sow during this season and how, then download the Apni Kheti app now, and visit www.apnikheti.com to enter the world of agriculture information.
For more information about Agriculture and Livestock, download Apni Kheti app – Android, iPhone