Grow green manure and make earth healthy:
• Growing green manure increases the ability of handling the water and other essential elements of the land.
• Green manure also reduces the bad effect of stagnant water.
• Green manure provides nitrogen to crops.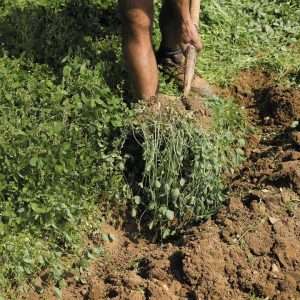 Harvesting of green manure:
• For green manure crops Dhaincha (jantar), sun hemp or cow pea crops are recommended by the Punjab Agricultural University, Ludhiana.
• Dhaincha (Jantar): Prepare the farm for sowing and then sow seeds @20 kg/acre.
• Sun hemp: For Sun hemp sowing, sow seeds @20 kg/acre. Crop sowing should be done with the help of drill or with hands in rows which must be apart approximate 22.5 centimeters
• Cow pea: For cow pea sowing, use Cow pea-88 @20 kg/acre and L-367 @12 kg/acre of seeds.
• Apart from this, if in summer season green grams are harvested, then after harvesting crops are ploughed in the field which in turn works as green manure. By doing this, the third part of nitrogen fertilizer can be saved for paddy.
For more information about Agriculture and Livestock, download Apni Kheti app – Android, iPhone