• It is an Eco-friendly technique used for management of fruit flies mainly in kinnow, peach, plum, guava, pear and mango trees. It will help to protect tree from infestation.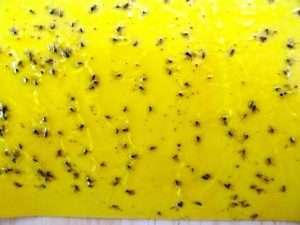 • The trap consists of a small container with a piece of plywood treated with methyl eugenol and dichlorovos. It attracts the male fruit fly.
• The traps are should be fixed to the trees at a height of 1-1.5 m from ground level with the help of metallic wires/tags. The traps should be fixed at that place where there is no receiving of direct sunlight.
• Fix fruit fly traps @16 traps/acre. For peach fix the trap in first week of May month, for pear fix the trap in June month, for guava fix the trap in first week of July and for kinnow crops trap is fixed in August month. Traps should be kept till harvesting.
• A single trap can trap about 6000 male fruit flies and this will also help to reduce the chances of mating to a greater extent.
For more information about Agriculture and Livestock, download Apni Kheti app – Android, iPhone