It is also known as plastic tunnel technology are miniature structures giving greenhouse/ poly house like effect. They entrap the carbon dioxide gas which enhances the photosynthetic activities in plant which results in higher yield.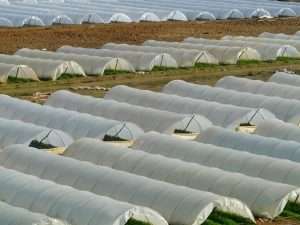 • Low tunnel technology is mainly used for producing healthy and quality yield. Mainly cucumber, water melon, bitter gourd, bottle gourd, muskmelon, summer squash etc. or off season vegetables are grown to earn high income.
• By growing crops in plastic tunnels, it will help crop to protect from rain, frost, snow, wind and high or low temperature.
• The horticultural department is giving subsidy to the farmers on the purchase of 50-microns plastic sheet. You can consult the agricultural department of KVK to get more knowledge about subsidies.
For more information about Agriculture and Livestock, download Apni Kheti app – Android, iPhone